Downloads
Sun and Heat
Our recommendations to stay protected all summer long.
A tanned complexion, a healthy glow. Be careful not to skip the steps to get there!
When it is burned by the sun, the skin reddens because it is irritated, inflamed.

For a healthy tan, be sure to use a sunscreen with a minimum sun protection factor of 20 (even here in Luxembourg).
Apply the product every 2 hours to ensure proper protection and hydration of the skin.
Cover your head and protect your eyes with sunglasses (UV 400 category 3 standard).
ist of preventive tips in case of high heat:
do not go out during the hottest hours.
look for shade and protect your head (hat, cap, etc.).
hydrate yourself regularly and do not drink alcohol.
do not leave children in direct sunlight.
do not make any significant physical effort.
keep your home cool and ventilated.
get news from those around you (especially the elderly).
Find our information brochure:
The effects of the sun, skin types, sun index and UV protection as well as a poster to print.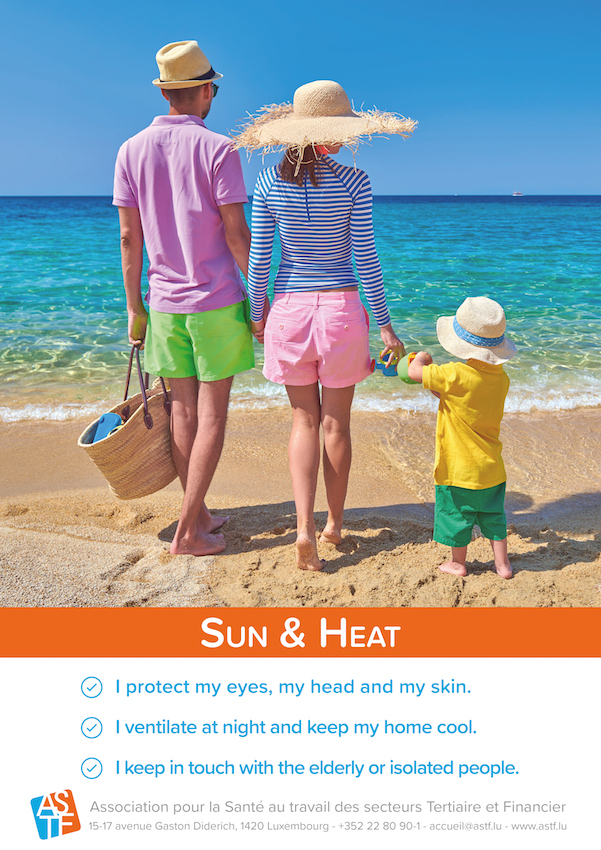 ---
Related articles: