Nutrition and celebrations
Enjoy the festive season without putting on weight
Some nutritional advice for year-end festive season meals.
Here are a few tips for light festive meals:
having fun during the festivities is important.
Be reasonable;
Do not take a second helping; eat everything in moderation;
Do not combine dishes that are rich in fat and sugar at the same meal;
Do not add sauce;
Drink plenty of water;
If you are hosting other people, alternate rich and light dishes;
Organise your party planning — Schedule just one festive meal a day. If possible, avoid two such meals in a row;
Even if an average Christmas meal provides 3400 calories/person, do not worry. A balanced diet is not achieved over just one meal;
If you organise the meal, don't feel stressed. That will help you to avoid unreasonable snacking;
Keep up regular physical activity.
A festive meal can be consistent with good health — Guide to the right kinds of food
Oysters (70kcal/100g)
They are low on calories and packed with oligoelements that are beneficial to our health including iron, iodine, phosphorus, copper, zinc and selenium. They are also protein-rich.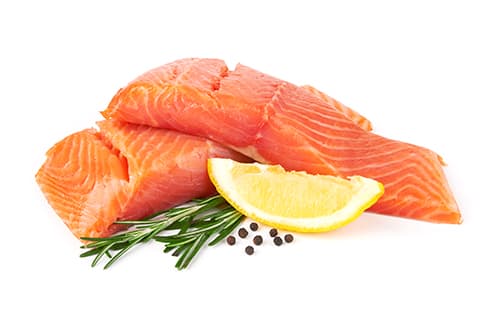 Smoked salmon (180kcal/100g)
This is an oily fish with plenty of mono- and poly-unsaturated fatty acids, especially precious Omega 3 which helps to increase the good cholesterol level.
Foie gras (450 kcal/100g)
This has a much higher calorie content than fish and must be eaten with moderation. Foie gras is primarily a source of lipids (carbohydrates) (52.9 g/100g including 29% mono-unsaturated fatty acids).
Like the previous types of food, it is also a source of iron and many minerals (phosphorus, potassium, magnesium and sodium) and contains plenty of vitamins (vitamin C 31mg/100g, vitamin A and vitamin B9).
Game and poultry
Apart from goose, these kinds of meat are low in fat. As a guide, venison provides 170 kcal/100g.
Turning to the familiar Christmas turkey: remember that turkey is the leanest type of meat and an excellent source of protein. It is also rich in minerals: phosphorous, iron, zinc and selenium and vitamins of the B complex (B3, B5, B6, B12).
Champagne
Like every other kind of alcohol, this should be drunk in moderation (12% of alcohol by volume). Important note: champagne is rich in antioxidants (19 phenolic compounds).
And when the festivities are over, what to do about your weight?

Resynchronise your biological clock;
Get back to a correct rhythm;
Not more than 3 to 4 meals a day. Avoid snacking;
Do not miss out on any meals;
Drink plenty of water.

Keep moving:

At least 30 minutes walk a day (at a lively pace);
Use the stairs whenever you can;
Don't take your car for short journeys;
Take advantage of the snow (if there is any).
Find this article in PDF and the poster 'Nutrition and Celetrations' to print for your premises.
---
Recipes for a festive meal.
Starter - Scallop carpaccio with vanilla and pineapple
Source JournalDesFemmes.fr
Ingredients (for 2 persons) – Preparation: 10 minutes
6 scallops
4 slices of pineapple
2 vanilla pods
Walnut or truffle oil
A few drops of lemon juice
Preparation
1. Split the vanilla pods in half lengthwise, remove the seeds and add them to two tablespoons of walnut or truffle oil with a few drops of lemon.
2. Cut the pineapple slices into pieces. Use fresh pineapple if you can. It will taste even better.
3. Cut the scallops into thin slices and arrange them on the plates. Drizzle with a touch of vanilla oil and add lemon drops.
4. Finally, add the pineapple pieces and decorate them with the vanilla pods.
Place in the refrigerator for thirty minutes before serving.
Main course - Turkey roulade with mushrooms and chestnuts, sweet potato puree
Source Gourmandiseries.fr
Ingredients (for 4 persons) – Preparation: 25 minutes – Cooking time: 45 minutes
Turkey breasts:
4 very thin turkey breasts
160 g of mixed mushrooms: chanterelles, morel, portobello and girolle mushrooms...
60 g of cooked chestnuts
3 tablespoons of poultry stock
2 shallots
Chervil
Salt
Ground pepper
1 teaspoon of olive oil
For the sweet potato puree
2 sweet potatoes
6 tablespoons of lukewarm semi-skimmed milk
1 tablespoon of four spices
1 big pinch of salt
Preparation
Stuffing
1. Finely chop the shallots. Sauté the shallots on a very low heat in a non-stick pan and add a tablespoon of stock. When the shallots become translucent, add the mushrooms, whole chestnuts and the rest of the stock. Now reduce.
2. Once the liquid has been well reduced, remove from the heat. Set a few whole chestnuts and mushrooms aside.
3. Mince the rest into small pieces to make a compact stuffing. Add salt and pepper.
Roulades
1. Use a rolling pin to flatten the breasts and make them as thin as possible.
2. Place the equivalent of 2 tablespoons of stuffing at one end of the breast. Squeeze the stuffing so that it is compact. Roll the meat tightly onto itself to enclose the stuffing, making sure to tighten well. Tie up the roulade with string. Repeat the same instructions for the other breasts.
3. Lightly oil the frying pan using absorbent paper. Heat the frying pan and place the roulade in position. Turn over at regular intervals while cooking to ensure that all the surfaces are browned.
Sweet potato puree
1. Peel the sweet potatoes and cut them into chunky pieces. Place the sweet potatoes in a large saucepan and cover with cold salted water. Bring to the boil and cook for 20 minutes.
2. Drain the sweet potatoes, then put them back in the saucepan with the heat turned off. Any surplus water will evaporate thanks to the residual heat of the saucepan.
3. Warm up the milk and pour over the pieces of sweet potato. Add a pinch of salt and the 4 spices. Mix vigorously using a fork until you obtain a creamy consistency (you may also use a small blender and mix with quick short bursts).
Presentation
1. Place a large tablespoon of sweet potato puree on the plate and flatten out using the back of the spoon to form a comma.
2. Using a very sharp knife, cut the roulade into 5 to 6 small pieces. Place them on the plate.
3. Decorate with the mushrooms and chestnuts and a few chervil leaves. Your dish is now ready to serve.
Notes
For the gourmet, you may accompany your roulades with a little sauce made from the cooking liquid, the stock and a touch of light liquid cream.
So that the turkey is not too dry, make sure not to overheat your frying pan. The meat must be cooked gently to prevent the breasts from losing too much water.
Dessert - Light yule log with fruit
Source Elle.fr
Ingredients (for 8 persons) – Preparation: 25 minutes – Cooking time: 15 minutes
For the sponge:
3 eggs
1 sachet of baking powder
80 g of extra-fine sugar
80 g of cornstarch
1 sachet of vanilla-flavoured sugar
For the filling:
35 cl of milk
35 g of brown sugar
35 g of cornstarch
1 egg
1 kiwi
1 mango
1 victoria pineapple
1/2 lemon
Icing sugar
Preparation
1. Peel and cut the fruit into very small dices. Drizzle with lemon juice and drain in a colander.
2. Whisk the whole egg, brown sugar, cornstarch and milk. Heat the mixture gently while stirring with a whisk. Stop cooking as soon as the liquid starts to boil.
3. Pour into a salad bowl and leave to cool down fully. Place the mixture in the fridge. For the filling: separate the egg yolks from the white. Whisk the yolks and the extra- fine sugar until the mixture forms a mousse. Add the cornstarch, baking powder and vanilla-flavoured sugar. Fold.
4. Preheat the oven to 150°/5.
5. Whisk the egg whites to very firm peaks, add a pinch of salt. Fold delicately into the previously prepared mixture. Pour the mixture into the tin lined with greaseproof paper. Cook for 10 to 15 minutes. With one bold movement, turn the cake onto a wet tea towel while carefully peeling away the lining paper. Leave the cake to cool down in the tea towel.
6. When all the ingredients are really cold, garnish the sponge delicately with a layer of cream and fruit, without using too much. Roll and place in the fridge until you are ready to serve. Decorate with icing sugar and the remaining cut pieces of fruit.
---
Related articles: